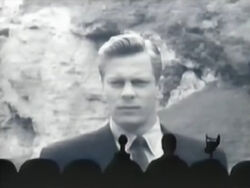 Holy shit, Peter Graves died.  OMG.
I simply cannot process this information.  Jesus.
Most of you probably only think of Peter from his role in Airplane.  But I know him as the sexy young father in Night of the Hunter, the Nazi turncoat in Stalag 17, and most of all….
all of those wonderful, wonderful 1950′s sci-fi Cold War paranoia allegorical B-movies that he made.  Peter Graves has starred in some of my absolute favorite, most iconic movies (to me!) of all time.
It Conquered the World (in the running for my favorite movie, ever)
Killers From Space
Beginning of the End
Red Planet Mars
Between MST3K and our own genuine fandom for this stuff, we've seen some of those movies I dunno how many times.  Peter Graves is truly a household name in this house, and like an old family friend.  I am crushed, and I can't watch this without weeping, and I know BW will too.
"He learned, almost too late, that man is a feeling creature and, because of it, the greatest in the universe. He learned, too late for himself, that men have to make their own way, to make their own mistakes. There can't be any gift of perfection from outside ourselves. And, when men seek such perfection, they find there's only death, fire, loss, disillusionment, the end of everything that's gone forward. Men have always sought an end to toil and misery. It can't be given; it has to be achieved. There is hope, but it has to come from inside, from man himself."
BW and I, we love you, Peter.